SVIMS is the best BBA College in Kolkata
Bachelor of Business Administration
BBA Colleges in Kolkata offers 3-year undergraduate course that deals with providing students with knowledge regarding commerce, business, administration, and marketing and helps them develop their business sense and entrepreneurial skills to become influential leaders and managers in the future. After BBA, the job opportunities lie in finance, marketing, human resources, banking, accounting firms, etc. Among all the BBA colleges, SVIMS is one of the best BBA colleges in Kolkata.
Top BBA College in Kolkata
ADMISSION ENQUIRY
Fill up the form and Submit. Our Executive will Contact You
Why SVIMS is the best BBA College in Kolkata
Reasons behind being the best BBA College in Kolkata
Top BBA College in Kolkata, SVIMS offering full time 3 Years BBA programme
BBA Course Overview
| | |
| --- | --- |
| Degree | Bachelor Degree |
| Full Form | Bachelor of Business Administration |
| Duration | Course Duration of Bachelor of Business Administration [BBA] is 3 Years. |
| Minimum Percentage | 50% in 10+2 from a recognised board |
| Subjects Required | English in 10+2 |
| Average Fees Incurred | The average BBA course fee ranges from INR 1 to 2.5 lakh per annum |
| Average Salary Offered | The average BBA salary is INR 4.2 lakhs per annum |
| Employment Roles | Information Systems Manager, Business Administration Professor, Production Manager, Finance Manager, Human Resource Manager, Business Administration Researcher, Management Accountant etc. |
| Placement Opportunities | Accenture, EY (Ernst & Young), Wipro Technologies Ltd., HDFC Bank Pvt Ltd, Deutsche Bank, Amazon.com Inc, Concentrix Corporation, Societe Generale, Kotak Mahindra Bank, Royal Bank of Scotland etc. |
BBA Course Details
SVIMS, One of the Top BBA Colleges in Kolkata, offering Scholarships to the eligible candidates. Send us query for details.
Top reasons to study BBA:
Helps Develop Managerial Skills: A BBA degree provides a good headstart for candidates who wish to develop managerial skills. The course takes students through the core areas of management including Marketing, Sales, Strategy management, etc., along with the key areas such as finance and economics.
Industry- Oriented Course: BBA courses are very well adapted to train students as per industry requirements. They provide an excellent combination of practical and theoretical knowledge. Many well-established companies and start-ups seek graduates with a BBA qualification as they are required to carry out a range of responsibilities in an organization.
Open Job Market and Scope for Growth: As BBA graduates are designed to fit into a variety of roles in an organization, they have plenty of job opportunities available in the market. In addition to this, this course is also well suited for students who aspire to be entrepreneurs or manage their family business. The starting salary of a BBA graduate working on executive-level posts can range between INR 2.5- INR 4 Lakh Per Annum. Experienced candidates are appointed at higher positions such as Associates and Asst. Managers and can see significant salary gains in the field.
Always try to study in one the Best BBA Colleges in Kolkata
A Thorough Professional Course: The BBA course duration is for 3-year, unlike many other professional courses available at the undergraduate level, such as B.Tech. Furthermore, a 4 year- Integrated BBA + MBA course is also provided at some universities. This course provides candidates with an extra academic year and allows that much freedom to gain work experience through internship or plan/prepare for their postgraduate study, which is extremely valuable.
Great Foundation Course for MBA: A BBA degree is an excellent foundation for an MBA course. The basics for business administration, management knowledge, and practical skills gained by a student in BBA help provide them with an excellent stepping stone for pursuing an MBA. Students who pursue an MBA after BBA generally have a better understanding of the management course which can work to their advantage.
Early Start to Your Career: One of the main advantages of a BBA degree is that it allows students have an early start to their careers. BBA graduates tend to find a job much quicker and at a higher salary than Bachelor graduates from other streams. It is possible to finish your graduate degree and immediately start working, without having to wait for the completion of your postgraduate studies after doing a BBA.
Stronger Network: Since communication is at the core of a BBA degree, it helps to build a strong network of professionals once these key skills are achieved. Since it is possible to start one's career earlier than most other Bachelor's degree holders, it provides professionals more time to build a solid network, which can prove very advantageous in the future.
LATEST EVENTS of SVIMS, the Best BBA College in Kolkata
Excellent Placements of BBA Students of BBA get placed at MNCs Students of BBA, SVIMS, Kolkata (one of the best colleges of SVGI) get placed in MNCs in the year of 2023. Excellent Placements of BBA CONGRATULATIONS TO THEM ALL!! Glimpse of BBA Placements – 2023 Excellent Placements of BBA Know More About our Placements…
One of the Strong Features of, SVIMS, one of the Top BBA Colleges in Kolkata, is it's Highly Qualified Faculty Members.
Department of BBA
Faculty Members
Dr Abu Sayeed Mondal | Qualification : PhD( Business Administration) MBA Experience : 13 yrs Academic , 2 years industry. Department : BBA
Srimayi Majumdar | Qualification-MA B.ED EXPERIENCE-38 YEARS DEPARTMENT-BCA
Swarnadeep Goswami | Qualification-MBA(HR & Marketing), SAP trained (Sales & distribution). Experience-4.5 years (Academic) 2 years(Industrial)
Simi Rakshit |Qualification – M.com form Calcutta University ( Specialization – Accounting & Finance)Experience – 4 years
Aindrila Mandal | Qualification: B.Tech, MBA Experience:1 year 07 months(Academics) Department: BBA
Madhumanti Das | Qualification: B.Tech (Chemical Engineering) MBA(Finance)PhD(Pursuing) Experience: Industry: 2 Years Academic:1 Year
Krittika Das Banerjee | Qualification- M.A in English, B.ed, M.A in Education. PhD- Pursuing. Experience – 1year(Academics)
Prof. Bivash Saha | Qualification – MMA (Master of Management Administration) Dept:- Bachelor of Business Administration Exp:- 4 Years (Academic), 8 Years (Industry)
Sagnik Gupta | Qualification: BE (Mechanical), MBA (Operations), M. Com. (Accounting & Finance); Experience: Teaching 6+ years, Industrial-25+ years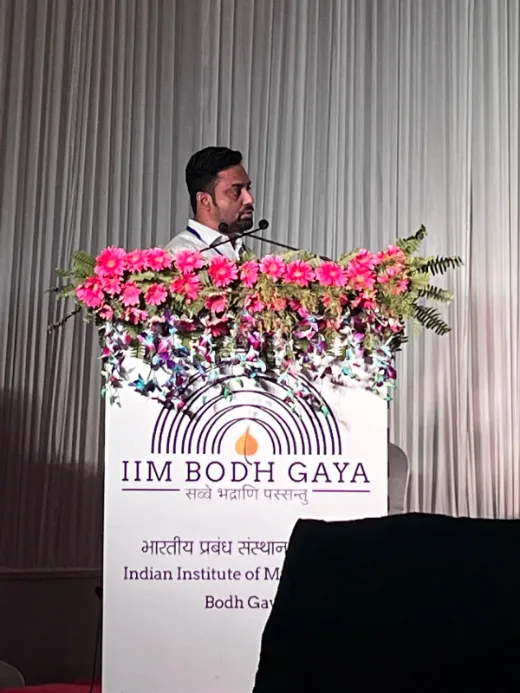 Wonderful Achievement of BBA Faculty Congratulations to Dr. Abu Sayeed Mondal Faculty Member of BBA Department Congratulations to Dr Abu Sayeed Mondal from BBA department for presenting research paper in International Conference of Marketing at Indian Institute of Management, BodhGaya (IIM Bg). This work was nominated for best research paper award.
Excellent Placement of BBA Department of SVIMS, one of the Best BBA Colleges in Kolkata
FEES STRUCTURE
FILL UP THE FORM TO GET THE FEES STRUCTURE
SVIMS IS THE TOP BBA COLLEGE IN KOLKATA
SVIMS is the top BBA College in Kolkata
Swami Vivekananda Instittute of Modern Science (SVIMS) offering 3 years full time BBA Course. SVIMS is affiliated to MAKAUT. SVIMS is one of the best BBA Colleges in Kolkata.
SVIMS
Swami Vivekananda Institute of Modern Science ( SVIMS ) is one of the top BBA Colleges in Kolkata offering 3 Years full time BBA course. SVIMS is affiliated to MAKAUT.
Scholarships
To get scholarship info for BBA students click here